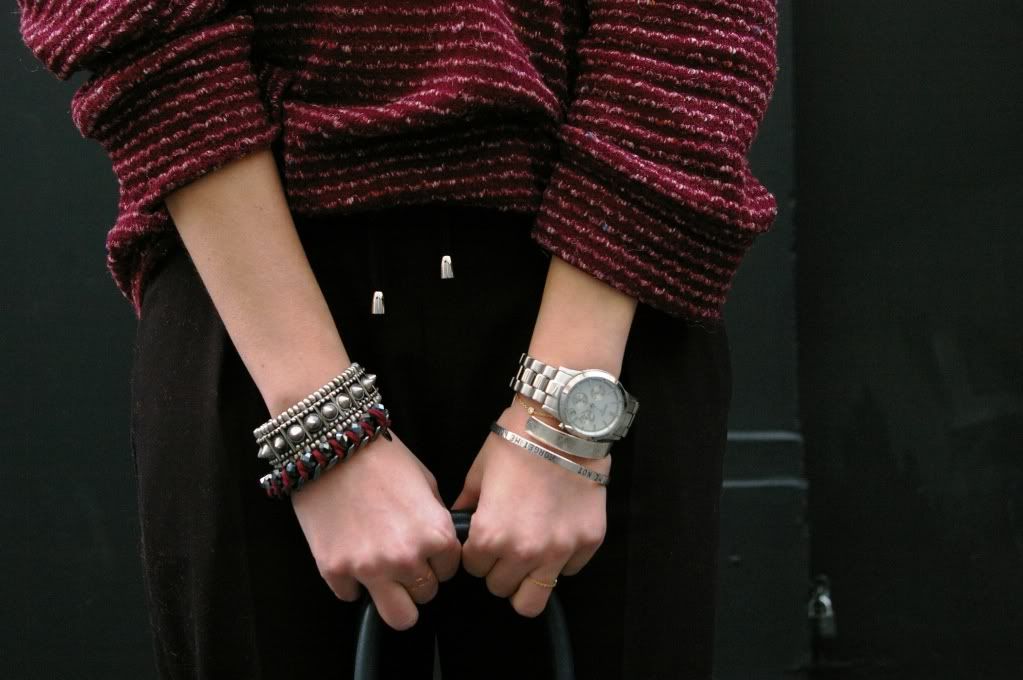 Yesterday I broke my gorgeous cage necklace (seen here and here). I know I shouldn't be so upset, after all it is only cheap and nasty H&M, but to tell you the truth, I have come to rely on high-street stores to build up my jewellery collection. I don't know about you guys, but I am finding it impossible to invest in nice clothes, quality pumps, sassy underwear, flawless makeup products AND statement accessories all in the same breath. My budget just can't take the strain. I envy the girls who manage to cover all areas and still have money left over to eat, but the truth of the matter is, I'm just not there yet. So that's why a small loss like this causes such grief.
Anyway, I thought I might take the opportunity to ask you all where you find your adornments? Until I can afford Dannijo, Mezi and Pamela Love, my favourite places to go frost myself are the obvious H&M, Topshop and Urban Outfitters, but also Mango, which has a surprisingly beautiful handmade collection of necklaces and bracelets. I have also loved the Kurt Geiger's Everything But the Dress range and can't wait to see what they have in store for spring. The other thing I die for is the new trend for rainbow arm swag like this but I haven't figured out where to find neon/studded/bejewelled friendship bracelets yet. So come on now, spill the beans. Tell me all your dirty secrets. Where does your bedazzle come from?
****
Voilà, hier j'ai cassé mon magnifique collier cage doré (vu ici et là), et je suis très triste. Je sais que les créations cheap d'H&M ne méritent pas tellement un deuil, mais pour tout vous dire, depuis quelques temps je dépends entièrement de ce genre d'enseigne pour consolider ma maigre collection de bijoux. Je ne sais pas pour vous, mais je ne sais plus où donner de la tête : impossible d'investir à la fois dans de jolis vêtements, des pompes qui tuent, de la lingerie fine, du maquillage bio et des accessoires impeccables. J'envie réellement les filles qui arrivent à couvrir tous ces domaines, mais personnellement je dois prioriser, sans quoi je mourrais de faim ! Voilà pourquoi une si petite perte est synonyme de grand malheur.
Bref, je me suis donc dis qu'aujourd'hui était l'occasion parfaite pour vous demander où vous trouvez vos ornements corporels. Pour ma part, en attendant de pouvoir me payer du Dannijo, Mezi ou encore Pamela Love, mes sponsors favoris sont bien évidemment H&M, Topshop et Urban Outfitters, mais aussi Mango qui étonnement a une merveilleuse collection de colliers et bracelets fait main. J'ai également adoré la gamme « Everything but the Dress » proposée par Kurt Geiger cette saison, et suis impatiente de découvrir leur sélection estivale. Par ailleurs, j'ai un gros faible pour la nouvelle tendance "mon poignet est un arc-en-ciel" (vu ici entre autre), mais je ne sais pas encore où trouver des bracelets brésiliens flashy/cloutés/cristallisés. Allez, à votre tour de vendre la mèche. Je veux tous vos secrets. Ou allez vous pour vous embijouter?
Top: Topshop / Pants: Jade / Bracelets: Forever 21, Urban Outfitters and Kurt Geiger / Watch: DKNY / Bag: Celine / Nailpolish: Chanel - Nouvelle Vagu

e