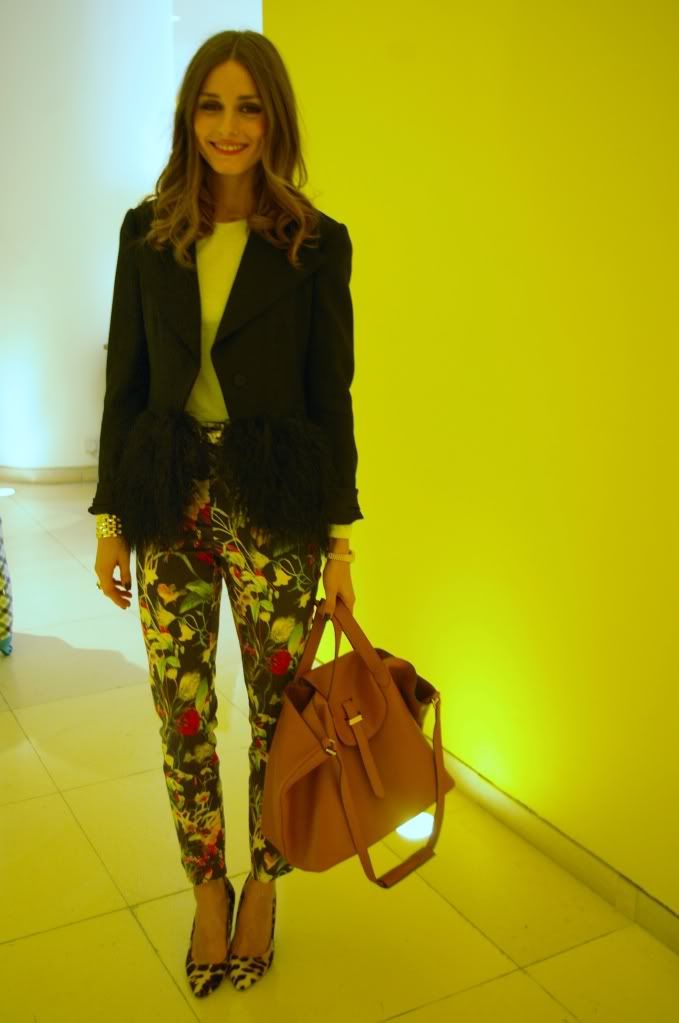 LFW seems but a distant memory now but the stalker snapshots we stole off the streets for
fash-piration
have only just begun to surface. I for one have loads that I am keeping warm on my hardrive until I feel the need to share. This encounter however should not be kept a secret. Yes people, I well and truly did bump into @therealOliviaP at St Martins Lane Hotel where she was staying and where I was working the Jeffrey Michael show (more of that another time). So yeah, I ran into Olivia. Twice. And the second time we were in the lift together and had a nice chat about the Topshop show she had just been too. Anyway I managed to immortalize her outfit because thankfully being fashion week and all I had my camera around my neck... and feel head over heels for her bag. It is by Italian brand
Meli Melo
that I had not heard of before (clearly haven't been reading Vogue meticulously enough) and obviously already sold out. Luckily for us our good old Spanish friend has made a very similar leather shopper which I might just have to snatch up! The highstreet version is not quite as deliciously floppy as Olivia's but I'm sure after a bit of wear and tear it will look saggy enough to match its Italian rival.
****
La fashion week londonienne semble déjà bien loin, et pourtant les clichés volés dans la rue ne font que commencer à faire surface. Pour ma part, j'en ai des centaines stockés bien au chaud sur mon disque dur qui seront dévoilés une fois le moment propice venu. Une rencontre cependant méritait que je m'y attelle sans plus attendre. Oui, j'ai croisé Olivia Palermo non pas une mais deux fois dans l'hôtel ou elle séjournait pour la semaine, et ou je travaillais pour le show Jeffrey Design (une autre histoire a venir très vite). La deuxième fois nous avons carrément papoté dans l'ascenseur de ses impressions sur le défilé Topshop. Elle fut parfaitement adorable et fidèle à son style si parfait, que j'ai pu immortaliser puisque j'avais mon appareil photo autour du cou! Coup de foudre instantané pour son sac
Meli Melo
, une marque italienne dont je n'avais pas entendu parler jusqu'à lors (je ne lis clairement pas assez méticuleusement
Vogue
) et qui est bien évidemment déjà en rupture de stock. Qu'à cela ne tienne notre ami espagnol nous a concocté son petit frère. Celui dernier est un peu moins loose, mais je pense qu'avec un peu d'amour et d'usure il s'affaissera tout aussi joliment que son rival italien. Une affaire à suivre...
(photos: MeliMelo.com and Zara.com)