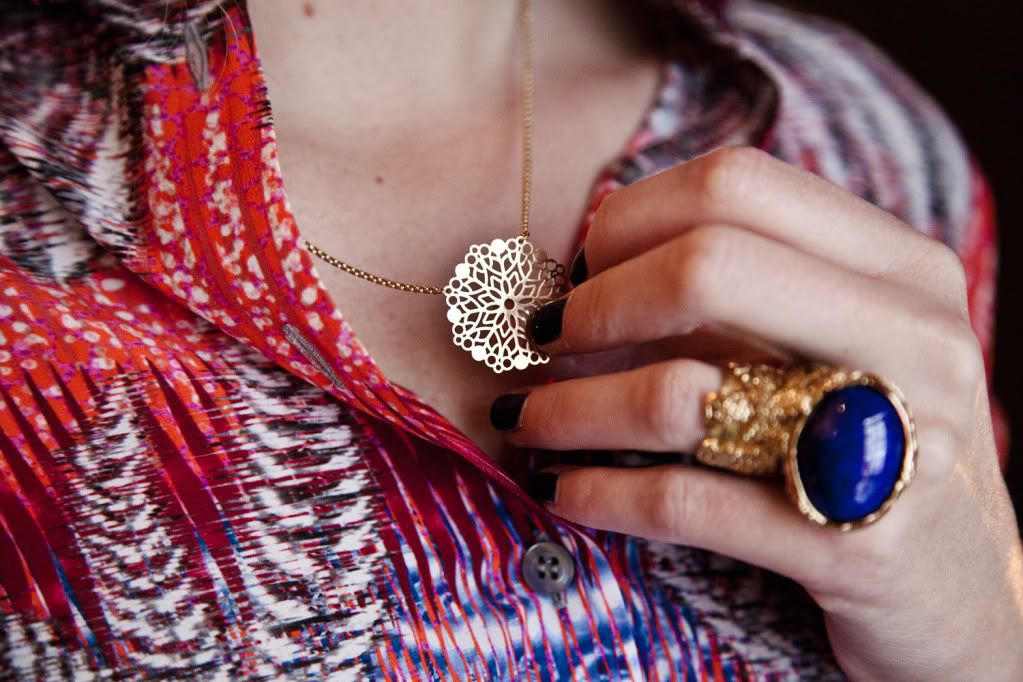 In 1448, Johann Gutenberg developed a strange piece of machinery which was set to revolutionize the world of knowledge. Heck, I probably wouldn't even be able to sit here typing away for the world to see (world, if you are reading me now, I salute you) if it were not for his baby, movable type. Five hundred years later, a new generation of inventors are rewriting fashion with their own print revolution. Enter Peter Pilotto, Mary Katrantzou and Jonathan Saunders. The print vanguard have taken the world of fashion by storm with their otherworldly and futuristic digitally-enhanced patterns.
It's time my cyber friends to step out of monochrome and embrace the new face of textile.


Take

Peter Pilotto

and

Christopher De Vos

, the creative geniuses behind über-modern label Peter Pilotto. Each of their collections is a bold vision of elegance, mixed in with a sea of surreal patterns. The desirability of their work is an ode to the inspired fusion between a master of cuts and a king of print. Gutenberg, I'm sure, would approve.
Plus who wouldn't want a piece of the cake when you are let in on the secret that the Pilotto Boys' oeuvre is not only extravagantly fascinating, it is also figure-enhancing. The pair have provided a simple answer to women complaining about the wearability – or lack of – of runway collections. Anyone planning on rocking up to the office in Karl's urban-hiphop-meets-Marie-Antoinette's new cruise collection ? Didn't think so (ok, wait hold that thought, this might actually work if you are a sweet shop owner). Peter Pilotto's ambitious optic illusion-esque prints are carefully studied to flatter skin tone and body shape alike, while Christopher De Vos ensures that the designs are cut and draped in a way as to suit the curves of a real woman. As the label's creative director, Ronnie Cooke puts is: "they accentuate the good parts and make the rest go away".
In a world where designers seem to envisage clothes only as something for the super-skinny (God knows how the rest of us are suppose to cover our modesty), Pilotto sees the future. A compelling equation between high fashion and reality, the result being a bold collection that every stylish girl will want in her closet. Me first.
Oh and that bit about optical illusions and magic tricks? Totally true. My wannabe shapes never received so many compliments in their (non-existent) life.

****


Vous l'aurez compris, une fois par semaine je m'aventure dans un billet un peu plus long que la normale dans lequel je m'attache à présenter un nouveau créateur, divulguer les origines d'une tendance ou encore réagir par rapport à un phénomène dans l'industrie de la mode (que ce soit de manière positive ou non d'ailleurs). Par manque de temps (et de courage) je vous avoue que je ne pourrai pas traduire ces articles, pourtant plus intéressants (j'ose espérer) que mes frivolités quotidiennes. Vous m'en excuserez chers cyber-amis. Pour résumer en l'occurrence, je m'intéresse aujourd'hui aux créateurs Peter Pilotto et Christopher De Vos, les deux génies artistiques de la maison Peter Pilotto (une marque encore émergente, mais que vous avez surement dû apercevoir dans votre Vogue). Cette maison audacieuse propose des pièces excentriques aux imprimés à la fois fascinants et magiques: par des effets d'illusion optique les motifs jouent avec nos courbes pour "rajouter" là où il en faut et faire disparaitre le reste. Un plaisir pour les yeux (et ces messieurs en redemandent).
Vous aimez?