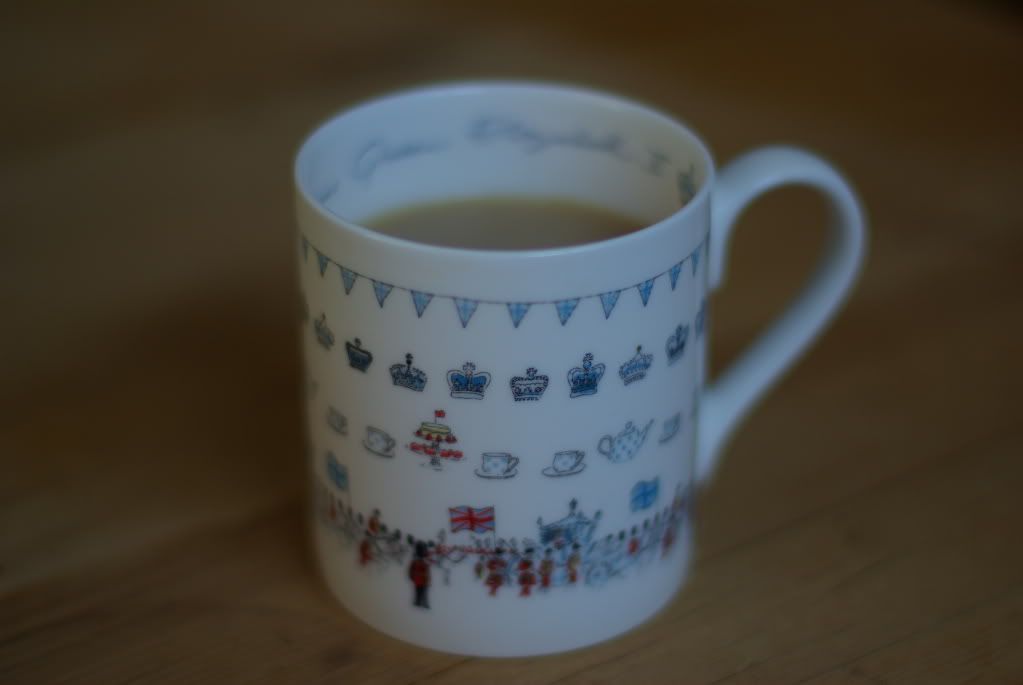 The third of June and it is Royal Pageant Day. I spent the day at home, where we were able to watch on TV the euphoric celebrations that I am unfortunately missing in London. Even from this distance the bubbling enthusiasm was infectious... from people jiving in Battersea park to canal boat afficionados. With the prospect of a thousand boats on the Thames and a glimpse of the Queen, crowds of happy Union Jack waving Brits had gathered from all over to wish her well .. And Her Majesty stepped onto her Royal barge bedecked with flowers and pageantry, luminous in a white outfit, sprinkled with Svarovsky crystals which should have glittered in the sunlight. The sun, sadly, decided to call a rain check - literally. But I was fascinated to hear in an interview that the Queen has actually contributed to fashion, and that she has influenced catwalks everywhere. At first this seemed a weird suggestion but then when you think about it she is the Queen of the colour statement. Her outfits always simple, in single colours and clean-cut shapes help her stand out in the crowd - helped by Her Majesty's ever present hat and gloves. Perhaps these latter are set for a comeback they do lend such sophistication to an outfit. And she has shown great interest in British fashion designers....Anyway I take this opportunity to say long health and happiness to Her Majesty Elizabeth II.
Aujourd'hui, 3 juin 2012 on fête le jubilé de diamant de la Reine. Nous avons passé la journée en famille, scotchés à notre télé pour suivre les célébrations euphoriques à Londres, que je loupe malheureusement, étant encore à Paris pour quelques jours. L'enthousiasme
pétillant s'est fait sentir jusqu'ici. Une vraie vague de bonne humeur a traversé la Manche. Des gens dansant le rock acrobatique, aux amateurs de péniches, en passant par les touristes émerveillés et les patriotes invétérés, habillés de la tête aux pieds dans les couleurs de l'Angleterre: tous ont contribué à faire de cet événement historique une véritable explosion de festivités, une entracte heureuse en ces temps de crise économique mondiale. Avec la promesse d'une flotte de plus de mille bateaux sur la Tamise, et l'espoir d'apercevoir la Reine, une foule d'anglais, agitant le drapeau national, s'est retrouvée pour commémorer les 60 ans sur le trône de leur monarque adorée. Décidément la famille royale fait sacrément parler d'elle en ce moment (c'est le cas de le dire!). Et sa Majesté qui embarque sur la péniche royale en grande pompe, lumineuse toute de blanc vêtue dans une robe et son manteau assorti, saupoudrés de cristaux Swarovski qui auraient dû briller de mille feux à la lumière du jour. Malheureusement le soleil n'était pas de la partie. Mais ce n'est pas trois petites gouttes d'eau qui vont démoraliser nos rosbifs. J'ai été ravie d'apprendre dans un interview que la Reine a toujours influencé à sa façon la mode du pays. Elle se démarque toujours de la foule avec ses tailleurs de couleurs vives, sans jamais oublier chapeaux et gants. Ces derniers sont d'ailleurs en train de faire un vrai comeback, ce qui n'est pas surprenant vu l'allure sophistiquée qu'ils prêtent à qui veut bien les porter. Enfin bref, tout ça pour dire que je souhaite longue vie et règne à sa Majesté la Reine Elizabeth II.