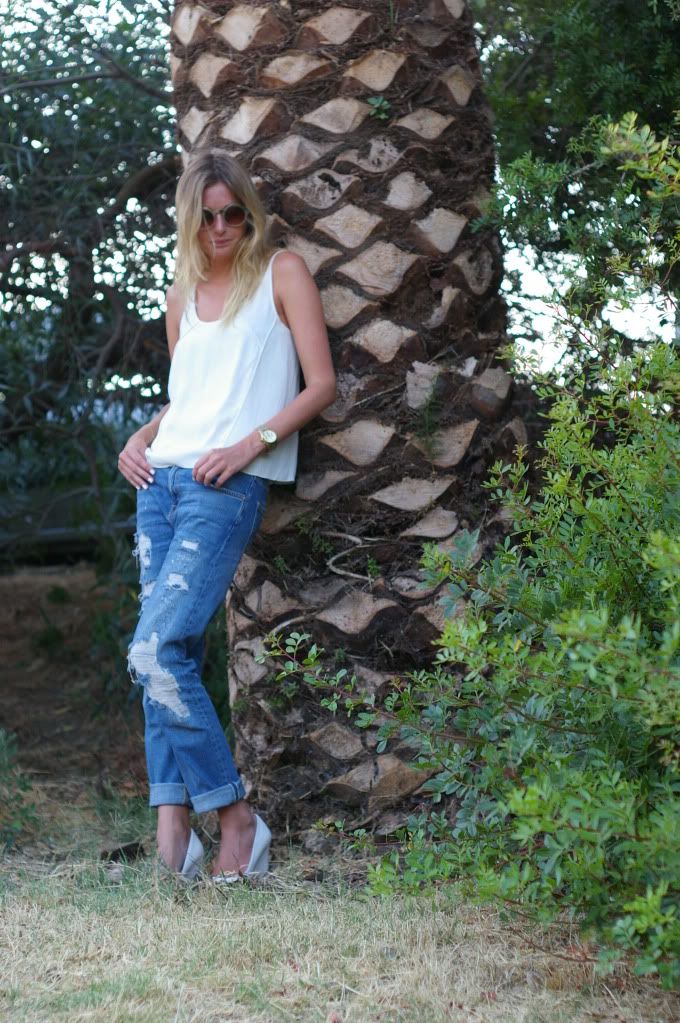 Ah to be back in
La Belle France
.. with a tan and the corsican beach on one's doorstep ...
La vie est dure, n'est ce pas?
This morning I give you simplicity. It
is
the holidays after all so forget
ingenious layering
, sophisticated attire and voguish accessorizing. You may as well forget witty puns and comical quips while you're at it, cuz my brain is too busy vacationing to come up with anything remotely smile-inducing. Though apparently
boyfriend jeans
and
keyhole shades
make me show a little teeth, something I'm told I should be doing more often here. Happy Monday everyone.

****
Quel plaisir d'être de retour en France... bronzée et avec la plage corse sur le seuil de ma porte.. la vie est dure, n'est ce pas? Ce matin, un seul mot d'ordre: la simplicité. On oublie superpositions ingénieuses, vêtements sophistiqués et accessoires en vogue. Pendant qu'on y est, on oublie aussi jeux de mots amusants et remarques pertinentes, puisque mon cerveau prend des vacances de son côté.. j'espère le revoir bientôt. En attendant, je note que l'équation
jean boyfriend
et
lunettes rondes
sait me donner le sourire. Une formule à utiliser plus souvent me dit-on...
Wedges by Mango (similar here)
Spaghetti-strap top by Max Azria