It's nice to live in the present. We all like to do it. Indulging in the cosiness of fall gear, hunting for the perfect winter coat (seriously,
need!
), and generally soaking up this season's latest rhetoric.. But who has time for all that jazz when the future is coming. At the speed of light (see truck show
schedule
for added briskness), and with a clear game plan! I for one cannot simply sit and wait for it to materialize, so until then, please behold a short exposé on the most exciting happening of the coming months ahead:
the asymmetrical skirt
!
Now, we all know that despite my ongoing rejection of all things girly, there is a special place in my heart for said garment. Unlike dresses, skirts are uncannily easy to dress down. Add a biker boot and an oversized knit,
et hey presto
, the tomboy in you is given free reign to take over. Which is why this trend has got me bouncing up and down like a caffeinated kangaroo (see Aussie ads for more about that).
STELLA MCCARTNEY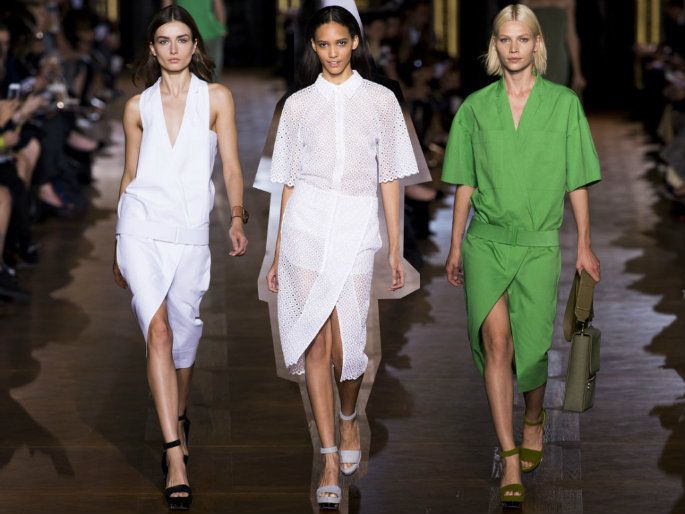 Starting with the most unconventionally conservative of the bunch. You'll find these at
Stella McCartney:
below the knee wrap-around skirts, fastened at the side, with a deep cut to the hip. To be worn with a mirrored V neckline to create a symmetrically gratifying allure says the Queen of fashion hits.
ACNE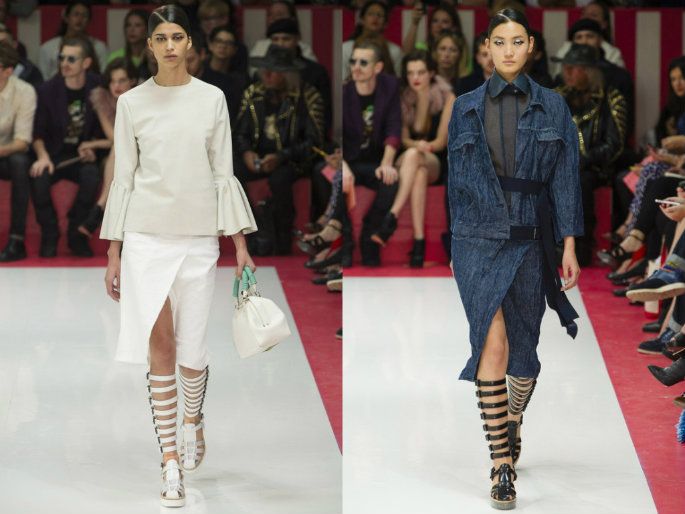 Similar story at
Acne
, though these bear a stronger resemblance to the kilt - albeit one that has abandoned traditions of tartan and pleats (the belt socks confirm that impression). The interplay between demure and seductive is quite pleasing in both cases as onlookers will be confused as to the nature of this particular get-up. Indeed, invisible knees would normally suggest that sexiness will not be an issue.. but wait, look again folks, only one of the two is
de facto
covered
. The other is not only flaunting itself, but also the upper leg attached to it, which can only mean one thing: for spring-summer 2013, the right thigh strikes again! Angelina would be proud.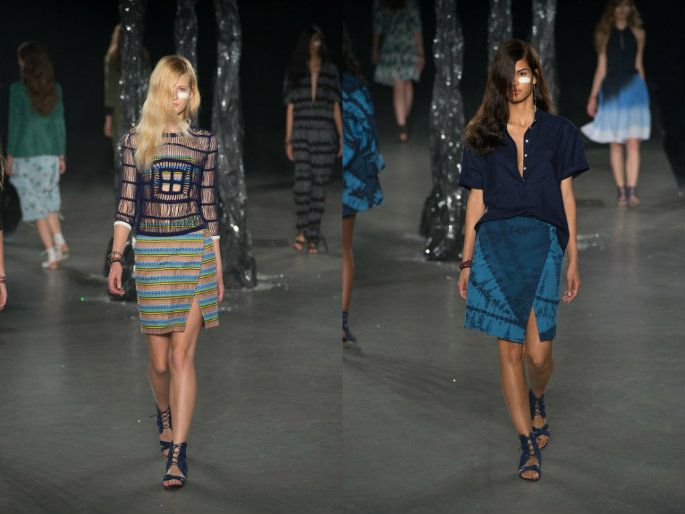 Next, the same but different. Boy by Band of Outsiders face painted the girls, clad them in the just-above-the-knee version and told them to give it a good old runway strut, with rolling hips et al. What these skirts lack in thigh-baring sexiness, they certainly make up for in texture and print. Boy sure can dress a girl, and make her look interesting too!
RODARTE
Moving on to proper minis now, and incidentally the most compelling pieces of the present assortment. Why you ask? Ponder the following, and you will have your answer: a. head-to-toe strong geometric patterns in bi-chromatic colour-block. b. the exactness of the figure-shaped skirt (what scientific people might call trapeze says the boy over my shoulder), and c. (here comes the real touch of genius by the Rodarte sisters) the fact that the asymmetrical cut-out is literally part of this mathematical puzzle. Finally, abstract fashion that makes sense!

ANTHONY VACCARELLO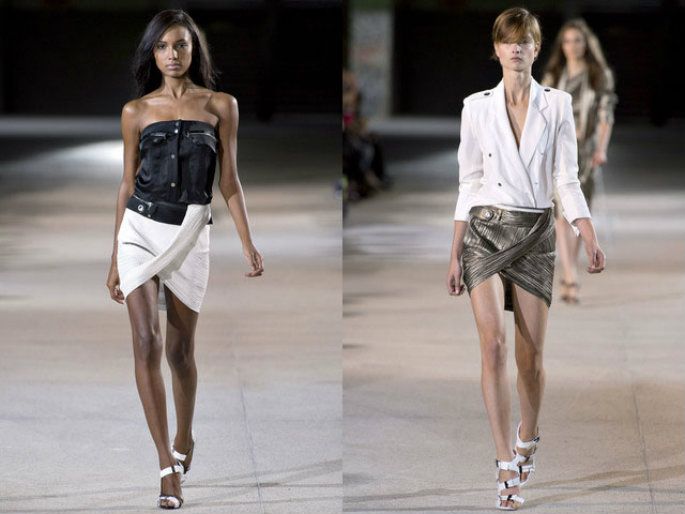 Anthony Vacarello is no newcomer to the concept. Did he not put
Anja
in a dress that totally put Angelina's right thigh out of business? Point made. Femininity incarnate for these ruched numbers. I particularly like the nonchalant tuck of the diagonal wrap.
ISABEL MARANT
Where the brave have used with abandon, Isabel uses only a few drops. This time its all about the fold-over layer. And though the execution is more timid than her classmates, there is no point ignoring what the purveyor of effortless attire says, as we all know this is what we will be seeing everywhere on the streets in a few months (weeks actually if Zara decides to get involved) from now.
DIESEL BLACK GOLD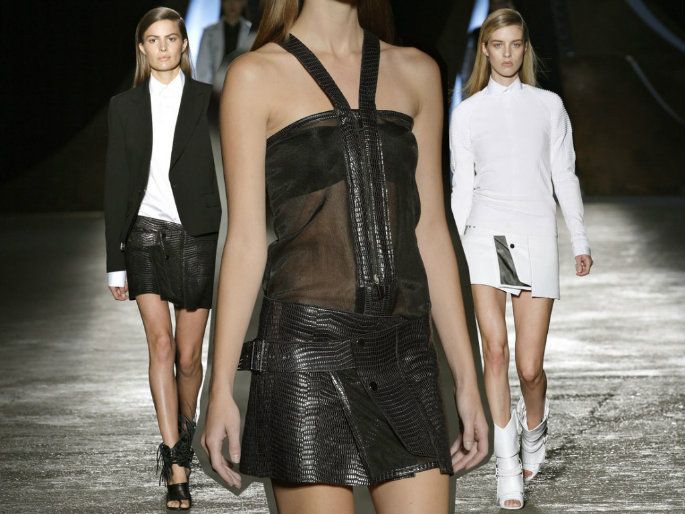 Last but not least
,
Diesel takes the crown. This should not be happening of course, especially as these skirts are not even asymmetrical per se, but rules are meant to be broken and exposés sometimes have inconclusive endings.
Sophia Kokosalaki, I salute you. The diagonal buckled-up layers got me, and here's to embossed leather street wear come Spring. Until then, please see below a small compilation of asymmetrical goodies to have and to hold (I just ordered
this one
). You can thank me later, as I really need some sleep!
(Images: Style.com as edited by myself and Labériane)