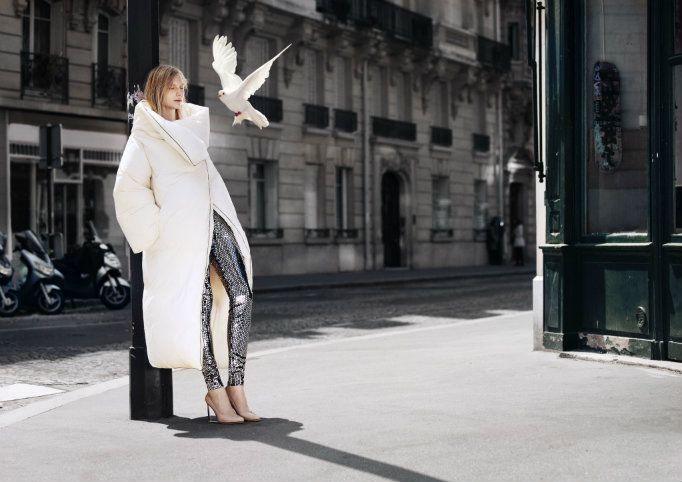 When highstreet King H&M announced in June the name of the next fashion house to design a capsule collection for them, the world came to a halt, if only for a moment ... myself included. Many advanced that, had the highly elusive eponymous designer not left the building, Maison Martin Margiela would never have sold its avant-garde soul to the purveyor of disposable fashion. Was this not the very antithesis of what the creator of this legendary house had stood for? And how could MMM's radical universe be translated into something that would appeal to the masses? The whole initiative could go very wrong, in more ways than one. Another concern, as I pointed out when I first heard the news, was that this would turn into a case of
slapping a MMM/anonymous label on a basic white tee, and retailing for 100 quid a pop
.
But the 23-piece collection has in fact remained surprisingly faithful to the essence of the brand. So faithful in fact that, according to British Vogue, it is made up of iconic re-editions from the Maison's archive. Even the campaign, photographed by Sam Taylor-Johnson, plays up to the brand's signature mysterious aesthetic, with the decor echoing what I hear the rue St Maur's former convent looks like on the inside - though here it is not the furniture obscured by dust covers, but the parked cars on the street. And it goes on. Conceptual attire is to be expected, like the
faux-foil metallic candy clutch
reworked from SS'10, or the
sock sweater
that was imagined for AW'91. Forget mainstream, ambiguity will play a leading role throughout with a 'vertical dress' (see above, campaign image No2), invisible pumps, and the
inside-out bra body
from SS'07, all set to make a comeback. New shapes, exaggerated volumes and complex layers will be offered-up for grabs at bargain prices. Now all that remains is to find out what fabrics have been used. The success of the enterprise rests on this alone, I'm sure. Meanwhile, let's embrace the opportunity, even if deep down we know that this was not meant to happen. I for one will definitely be joining the ranks on November 15th.