For weeks I could barely bring myself to admit it was true, let alone translate my heartbroken sorrow into words. But the reveal of
Balenciaga
's spring-summer campaign has reopened the wound, forcing me to accept that, for the first time in decades, our Fashion Week schedule will not include joining a weird trip
©
into the sculptural mind of one of fashion's greatest.

"That's the thing in fashion," Ghesquière said, "if you do not move, then you are dead." Well, that's the thing with us fashion-istas, Nicolas, if you do not give us our biannual fix of never-seen-before folds, not-quite-what-they-seem fabrics, and away-from-the-body structures, then we are dead, too. Dead - with no impending hope of resurrection, might I add - given that we still don't know when - nor where for that matter - we will be seeing you again. What is more, I fear the shoes that your successor has been asked to fill are ten times too big, making it inconceivable that he will be strutting up and down the Parisian fashion scene with the modern ease and irreverential swag you have accustomed us to any time soon.
No offence intended to Mr Wang, who I like very much.
I do, I really do
. From day 1, I have happily (read 'would have if funds had permitted') bought into his graphic urban-cool aesthetic of sexy-tomboy meets early-90s-grunge. Me, and the rest of the world, right ?
Which is precisely the point. What the fashion-literate may compulsively seek to hoard (see
Egyptofunk army takes over fashion week
), happy in the knowledge that she is in the know, and a proud member of an elitist cult that defines what is cool/sexy in this day and age, the 'commuter' (
him again)
simply won't get. And that is what it all comes down to. Sales.
Commercial is such a loaded word nowadays, not to mention creativity's worst enemy. And Ghesquiere - just like Jil Sander, Helmut Lang and many more before him - has chosen to step down rather than betray his creative instincts. Business is a bitch. But let us not judge the dynamics here, and instead acknowledge the threefold lesson to be learned: 1. Ghesquière always showed his true colours, and no amount of chief executive pressure would have it otherwise; 2. no matter how acclaimed a designer is within fashion's Wintour-centric microcosm, they no longer are the heart and soul of a brand, and can easily find themselves cast out of the house that bears their name (exhibit A: "
the creator is for now, the brand is forever
".); and 3. breakups fucking hurt. And I suck at them - Nicolas, I will love you forever.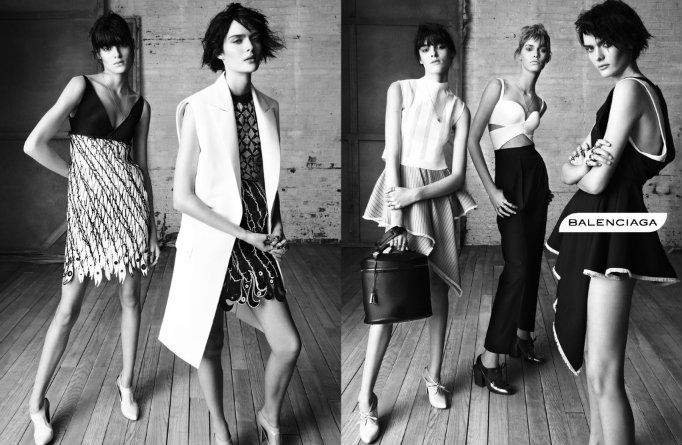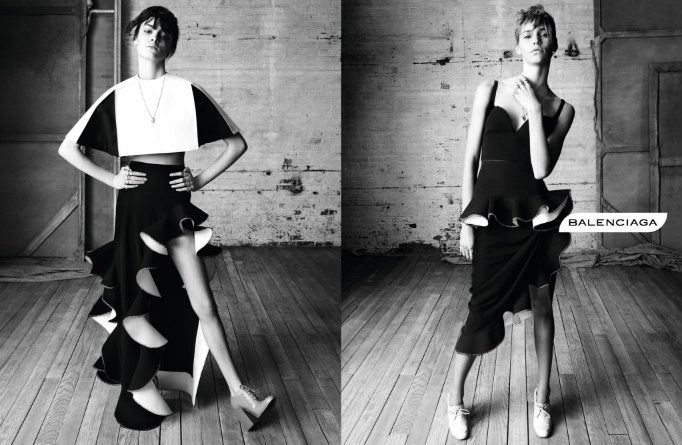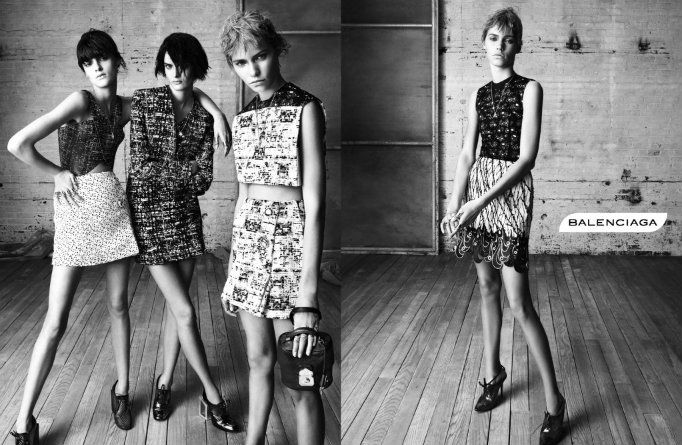 (Balenciaga SS13 Campaign - lensed by

Steven Meisel

)

Still, if we are to pay closer attention to the spring story, as captured above by Steven Meisel, then we might be forced to question the house's rationale pertaining to the collection in question, and Balenciaga's cutting-edge leadership over time. Unless I misunderstand the point, and to be coherent here is to contradict. But, does it not surprise you that a brand that is celebrated for its ingenious play on sexy, and masterful use of innovational cuts would come up with a campaign that is basically that of another great fashion house, circa 20 years back? Meisel did a beautiful job the first time round (see exhibit B, below). He also did a beautiful job this time round. But am I the only disappointed that Ghesquière's showstopping ruffles didn't get a never-seen-before curtain call?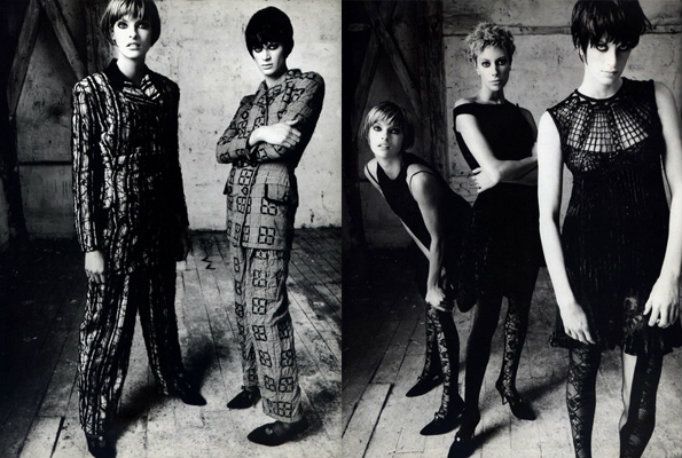 (Atelier Versace FW 1993 Campaign - lensed by [the very same]
Steven Meisel)
Only remaining question would be whether this doublon devalues the campaign in the eyes of the beholder (that's your cue folks!). Also, aside for college essays, is paraphrasing one's own work really socially acceptable? And will I ever get to wear a bra-suit? Pray, do tell.