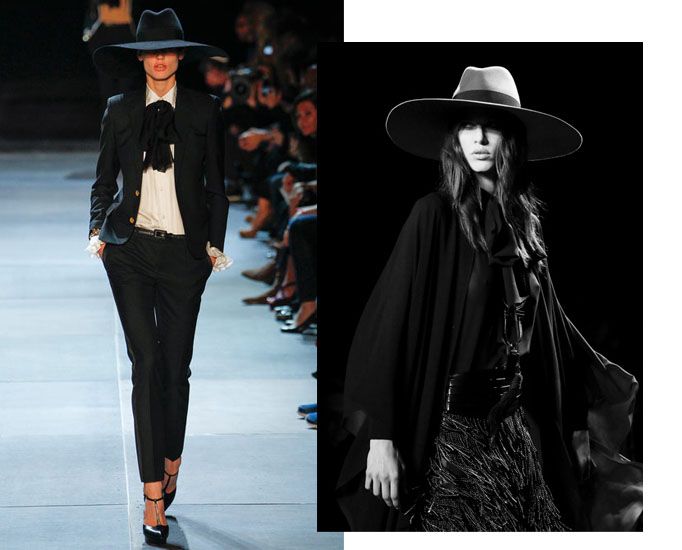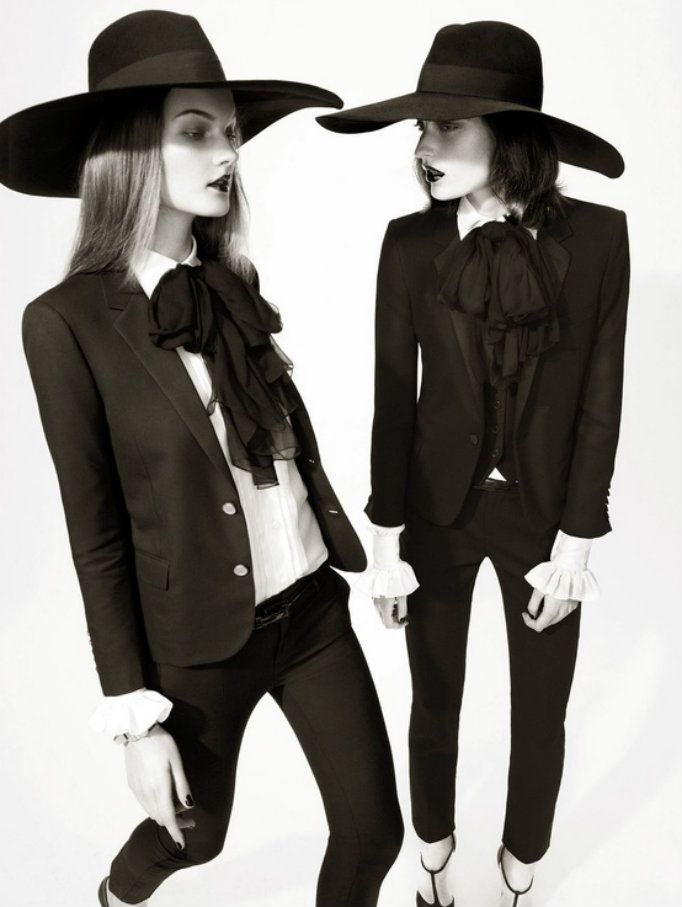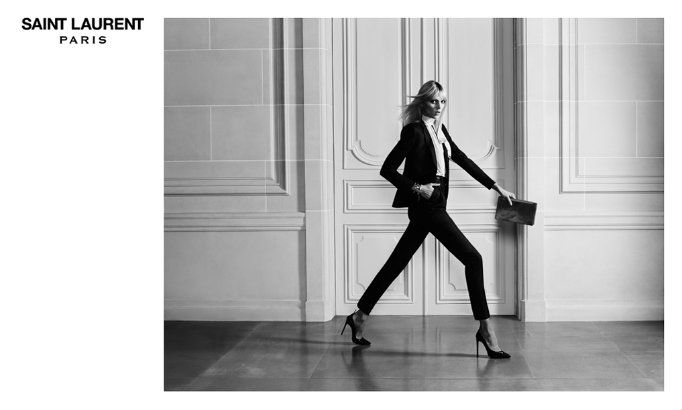 (Ph/ Style.com, Harper's Bazaar UK - February 2013 by Tom Allen and Saint Laurent SS13 campaign shot by Hedi Slimane)
The fuss, the crushing cynicism, the resonating anti-climax surrounding Hedi Slimane's debut collection definitely pervaded our impression of the new Saint Laurent woman. To be perfectly honest, when I first set eyes on her, I wasn't sure - though I couldn't tell you now whether this was my own mind speaking, or that of the many, many negative reviews that may have clouded my judgement. After all, it's hard to trust your gut when everyone who is anyone thinks that one of the most prestigious fashion houses has gone to the dogs. Ok maybe not to the dogs - but certainly a little too far downtown in boho-chic la-la Land.
Fast forward to the present, and I think we can all agree that here is some of the most covetable ready-to-wear available in town this season. Wearable, well-tailored, and well-crafted? Undeniably so. Hell each model could tumble straight off that runway straight into one of the Silencio's cavernous rooms, and fit right in (as long as she lights up a cig - she may look LA, but she must act parisienne!). Cool? There's a large dollop of that too. But most importantly, the way I see it, this collection boasts a certain "
frisson of the unexpected
" that was wanting in most of the Spring shows - the very same frisson that most critics deemed on first impression was lacking.
It's not just me, you feel it too, right? Hedi may not have revolutionized the way women will be dressing in 2013, certainly not in the same way that the skinny silhouette at
Dior homme
changed the face of manhood itself. The frisson was much more subtle than that. His aesthetic was so powerfully different from everything else on show this year, so true to his vision, so removed from what we were expecting, that I can't help but question whether all the negativity had more to do with petty PR wars and general frustration at Slimane trying to micro-manage every second of media coverage, than the clothes themselves.
"There was no show that echoed what Slimane created for Saint Laurent this season. Sadly, there were many shows that echoed each other in their shared influences and routinely include watered down Balenciaga-isms, Alaia-isms and Celine-isms."
Susie Bubble
hits the nail on the head. Why is it great? Because unlike all the sleek, pared-down, graphic minimalism, here is something utterly new to fill our wardrobes with. Something most of us will not have tried before, even though it is not technically box-fresh. Something that the general public understands and will be happy to buy into. Something that I want to make my own.
So to those who say
ain't Laurent without Yves
, I say don't let me catch you rockin' a wide-brim or Le Smoking anytime soon. Don't be dissin' the resurrector only to embrace his offspring, ok blud?
Pictured below, a quick gander of what I think Saint Laurent should be sending me [along with each piece's high-street counterpart (sort of), that might come in handy when I finally accept that none of these babe-staples will be coming my way any time soon..]