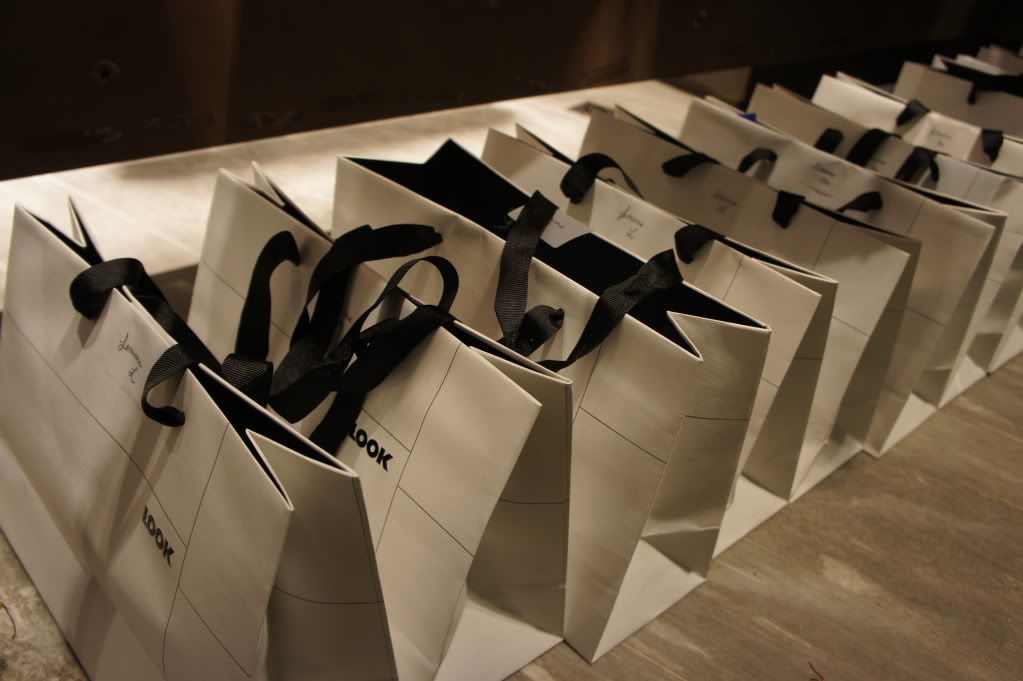 What happens when you get invited to the A/W press night for a high end, sportswear-meets-urban-chic label in the middle of April? Answer: you spend the evening thinking up dodgy schemes to try and casually flee the cocktail-infused event with the stunning goose feather jacket and fur hood that you have managed to slip into without too many people noticing. After all, I really wouldn't look that out of place given the schizophrenic weather we have been enjoying of late.
If you ever did hear me diss the down jacket, I take it all back. An evening in the presence of LOOK's meticuloulsy feminine – and intrinsically warm – garnments got me questionning my whole Winter sartorial stance. Why settle for stylish over cosy (or vis versa) when in fact the two work just as well hand in hand. Besides this uncanny revelation, I discovered a beautiful collection whose guiding principal is the combination of traditional craftmanship with the nobleness of fabric. Drawing its inspiration from natural elements like rock and water, the mineral hues of the clothes are brought to life by the colours of the brand's Mondrian-like logo. A lovely surprise for a girl like me who is normally more into her summerwear.
Never did manage to make that swift exit though. Only consolation is that the sun has finally come out to play. Next time my friends, next time.
****
Que ce passe t-il quand on se retrouve à une soirée presse A/H pour une marque de luxe qui se veut la passerelle entre le sportswear et le chic urbain en plein mois d'avril ? Réponse : On passe la soirée à comploter en silence afin d'établir le meilleur moyen de filer à l'anglaise avec le superbe manteau en plumes d'oie et la capuche en fourrure dans lesquels on a nonchalamment réussi à se glisser. Après tout, vu la météo schizophrénique que nous subissons ces derniers temps, je ne pense pas tellement éveiller les soupçons une fois dans la rue.
Je retire tout ce que j'ai pu dire de contrariant à propos de la doudoune. Une soirée en présence des vêtements méticuleusement féminins – et intrinsèquement chauds – de
LOOK
m'a obligé à remettre en question ma thèse vestimentaire de l'Hiver. Pourquoi choisir entre style et confort alors que les deux fonctionnent encore mieux en couple. Mis à part cette révélation déconcertante, j'ai découvert une collection magnifique dont le fil rouge demeure le mélange proposé de la technicité et de la noblesse des matières. S'inspirant des éléments naturels tels que la roche et l'eau, les tons minéraux sont éveillés par les couleurs du logo Mondrian de la marque. Une jolie surprise pour une fille comme moi, normalement défavorable à tout ce qui n'est pas pour l'été.
La mission « fuite à l'anglaise » a malheureusement échoué. Seul lot de consolation : le soleil a enfin décidé de montrer le bout de son nez. Pourvu que ca dure.
(Wearing: Jacket and chapka: LOOK collection / Jeans and Boots: Urban Outfitters)