Footnote
Tuesday, June 5 2012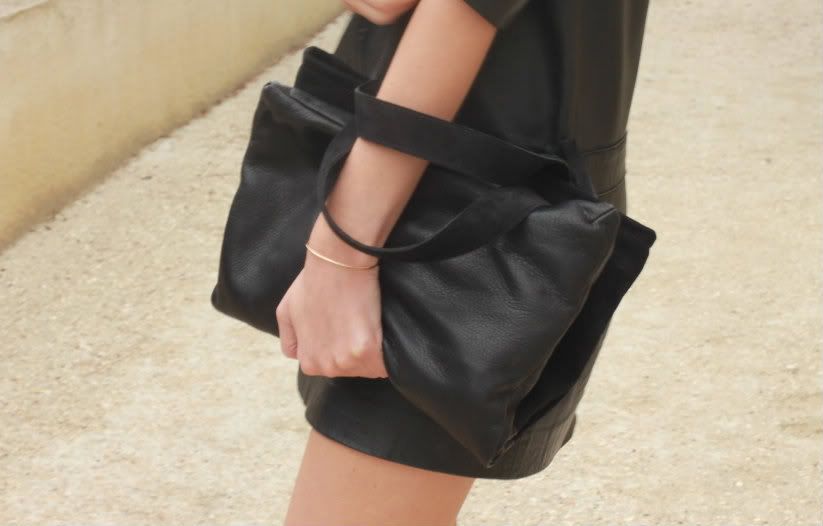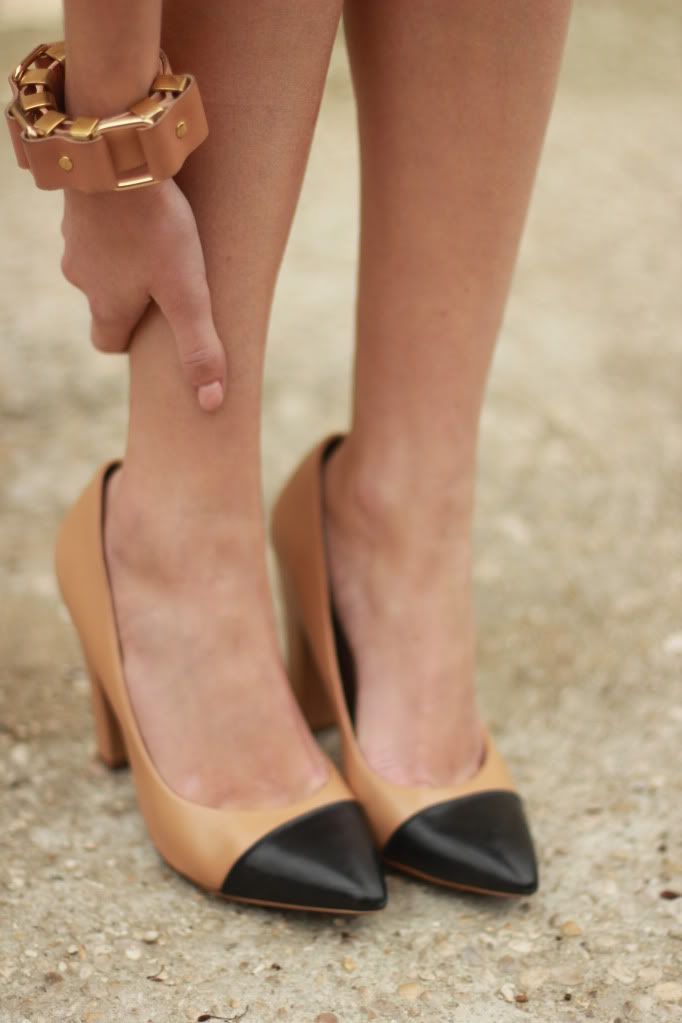 This is the one in which I lark about in a seemingly deserted alleyway pretending it is a normal place for me to be hanging out on a Monday afternoon while wearing a leather mini and toe-dipped heels. I know what you are thinking : when is a blogger ever caught in his/her natural habitat anyway nowadays? The fact that we have perfected the art of "spontaneous" street style (impromptu and unrehearsed are the X-factors here, staging being a punishable offence) so that it looks like Tommy Ton just happens to be walking by, camera at the ready, everytime we step out of our front door, is just the tip of the iceberg. I say the tip because our arsenal of super-powers also includes gazing dreamily into the distance, a plethora of non-posey poses (take a masterclass in fashion-blog posing this way), ever imaginative titles (please do take note of the above requisite pun), 24/7 heel fixtures and sprayed on sun goggles, and last but not least the ability to wear all of our bling in one go (see obligatory arm party tutorials at manrepeller.com), no matter what the context.
The ecology of the fashion blogger could go on, but I now choose (in true fashion blogger clicheness) to move on to the sartorial topic of this post, and that is toe-caps. In a bid to remain on top of trends despite the sad state of affairs of my finances, back are the capped-off ladylike block heels that I acquired at Christmas. Feminine with a vintage twist, I like to think of them as my personal nod to Louboutin's PVC-meets-SM seasonal footwear, although I give you they resemble more the Vuitton or Zanotti offerings. No matter, the main thing is that they are two-toned and look new, which is no mean feat given my track record. Now, with that box ticked, I can move back to tie/dye. Tomorrow.
****
Dans cet épisode je zone dans une ruelle apparemment déserte, faisant comme si j'étais une habituée des lieux : mon QG du lundi pour traîner en mini. Tout à fait. L'ironie de ces propos ne vous aura sûrement pas échappé, et je sais d'ors et déjà ce que vous allez me dire : existe t-il encore véritablement des instances dans lesquelles on surprend une blogueuse dans son habitat naturel ? Il est vrai que nous avons perfectionné l'art du street style 'spontané' (impromptu est le mot d'ordre ici, la mise en scène étant un délit passible d'emprisonnement) de telle façon à ce que l'on croirait presque que Tommy Ton a monté sa tente devant notre porte : dès que l'on sort de chez soi, il est là, camera en main, prêt à immortaliser nos tenues. Notre arsenal de super pouvoirs inclut par ailleurs un regard toujours tourné vers l'horizon, une pléthore de poses non-posées (prenez des cours ici), des talons de 15 vissés aux pieds 24 sur 24, une imagination toujours débordante quand il s'agit de nommer son billet, et enfin la capacité d'empiler tous nos bijoux en même temps, faisant abstraction de tous les codes de couleurs et de style (se rendre sur manrepeller.com pour un tutorial indispensable sur les « arm party »).
L'étude du personnage pourrait se poursuivre pendant quelques paragraphes encore, mais pour cultiver le cliché de la blogueuse mode, je vais m'aventurer à présent dans le domaine sartorial de ce billet : les bouts renforcés (comme d'habitude le français sonne moins joli que son homonyme anglais, « toe cap »). Pour tenter de rester tendance malgré l'état désastreux de mes finances, j'ai ressorti les talons bicolores de cet hiver. Féminins à l'allure plutôt vintage, ils font clins d'œil aux créations PVC-sadomasochistes de Louboutin, même si je vous l'accorde les miens ressemblent plutôt aux offrandes Vuitton ou Zanotti… Qu'importe, le principal étant qu'ils soient bicolores, et d'apparence neuve (ce qui n'est pas un mince exploit compte tenu de mon casier judiciaire en la matière). Et comme cette case est désormais cochée, je peux désormais me remettre au tie-and-dye. Demain.