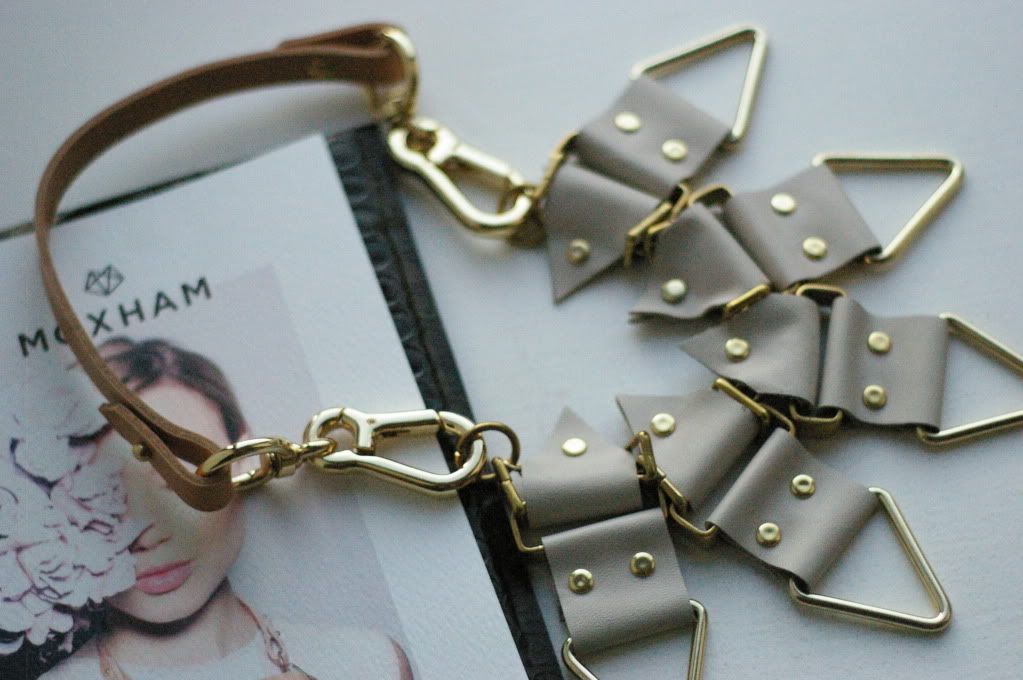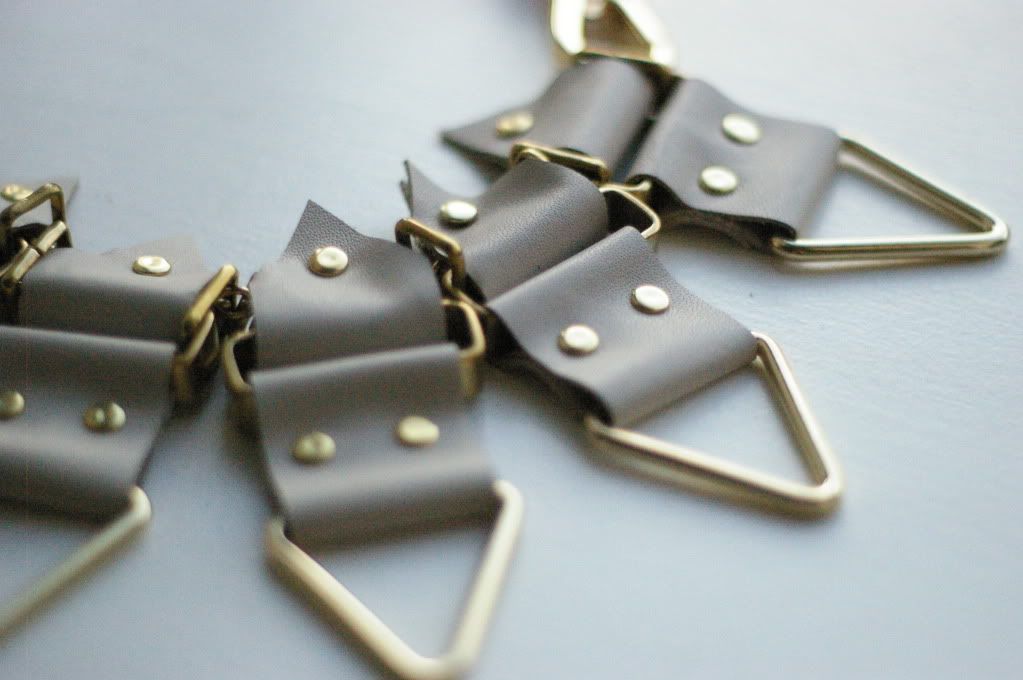 (MOXHAM Anubis necklace)
After receiving many a compliment about
my edgy pieces
by underground-chic designer
MOXHAM
, I feel the time has come to share the love. Or the wearable construction. Whatever, you get my point. So after hitting three digit figures on
twitter
,
facebook
and
bloglovin
(!), I contacted Maddy, the artistic genius behind these Egyptian mythology-inspired accessories to see if she would be game for a MOXHAM-infused treat. Being the sweetheart that she is, she graciously accepted. So here goes, we are offering-up for grabs one of the new collection's most striking pieces: the dove grey Anubis necklace. It is very similar to the one you have spotted me wearing once or twice
A-HELL-LOT
on here, which is why I picked it. It was a tough call what with all the oversized clutches, leather cuffs and motif necklace must-haves she has conjured-up for her line, so I really hope you like it as much as I do. See below the usual spiel about how to enter, and make sure you take a peek at the rest of the exquisite collection which will all be available to buy at
BENGT FASHION
.
For a chance to win the DOVE GREY ANUBIS necklace :
1. Follow me on
twitter
(@camtyox),
facebook
and/or
bloglovin
;
2. Follow Moxham on
twitter
(@MOXHAMSTORE) and/or
facebook
;
3. Leave a comment before Sunday 9th of September (midnight) in which you confirm which plateforms from both 1 and 2 you have chosen to follow (as explained above), as well as your e-mail address.
Please note: This contest is open to anyone, you don't need to have a blog or url to take part, just select the "anonymous" box in the comment drop-box below. Good luck.


****
Ravie de recevoir toujours autant de compliments ici et ailleurs sur mes accessoires avant-gardistes MOXHAM, je me suis dit qu'il était peut-être temps de partager. Les bijoux j'entends, pas les mots doux qui vous importent peu, j'en suis consciente. Donc lorsque twitter, facebook et bloglovin ont tous les trois atteints un contingent à trois chiffres (!), j'ai contacté Maddy, le génie artistique qui se cache tant bien que mal derrière ces bijoux, inspirés de la mythologie égyptienne, pour savoir si elle serait partante de jouer le jeu avec une surprise signée MOXHAM. Chou comme elle est, elle a gracieusement accepté. Nous vous proposons donc de gagner une des pièces les plus remarquables de la nouvelle collection : le collier ANUBIS gris colombe. Je l'ai choisi pour sa ressemblance frappante avec celui que je ne quitte plus et que vous avez pu découvrir ici. Ma décision ne fut pas aisée vu le choix étonnant disponible, entre manchettes en cuir, pochettes oversized, en passant par ces fameux colliers architecturaux, donc j'espère qu'il vous plait autant que moi. Voyez ci-dessous le bla bla habituel qui vous expliquera comment participer, et ne manquez pas d'aller faire un tour chez BENGT FASHION ou vous pourrez découvrir le reste de sa collection exquise.
Pour tenter votre chance il suffit de:
1. Me suivre sur twitter (@camtyox), facebook et/ou bloglovin;
2. Suivre MOXHAM sur twitter (@MOXHAMSTORE) et/ou facebook;
3. Laisser un commentaire avec votre nom + e-mail en m'indiquant quels réseaux vous avez choisi de suivre. Vous avez jusqu'au dimanche 9 septembre, minuit.Notez qu'il n'est pas nécessaire d'avoir un blog ou autre site web pour participer, il suffit de sélectionner anonyme dans la boite des commentaires ce qui permet à tout le monde de laisser

un mot. Attention, n'oubliez pas de signer du coup! Bonne chance