Sacrékoff
Wednesday, December 5 2012
Ah, Pre-Fall, we meet again – and aren't you just the sartorial tease! Showcasing seasonally appropriate gear is not part of the deal, you know. Am I to wait almost a year for things I should really be wearing right now? No, Idon'tthink so.. A cruel trick that shall nonetheless be forgiven in view of the sheer coolness on show this week. Karl'simpromptuScottishgetawaymight havesweptthe fashion crowd off its stiletto-clad feet – and transported them back to the 18th century for the night – but this is the collection that has stolen my heart… so far that is.
And tokick startthe whirlwind of autumnal novalty that is about to hit home: clothes for grown-ups who are too cool forschool – and more importantly, to work in an office. To call these silhouettes déjà vu would be missing the point. The sharp minimalism formulated atReed Krakoff might well toy with the notion of a uniform, or so revealed the eponymous designer behind the collection, but this doesn't imply we've seen it all before.Seems to me that his simple yet cutting-egde tailoring only gets stronger, season after season.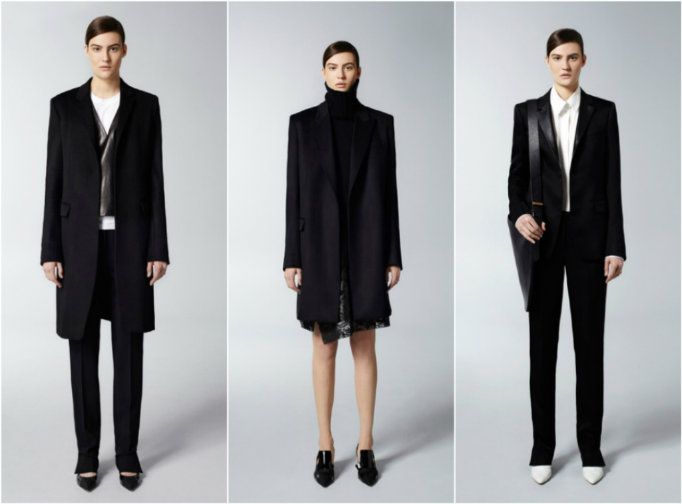 (Ph/ Reed Krakoff Pre-fall 2013 via Style.com)
Consider this: a boxy leather V-neck layered over a basic white tee in guise of shirt, as part of an otherwise conventional looking pantsuit ensemble. Beside having my name splashed all over it, here is yet another modern reinvention of aboardroomclassic, masterfullyexecuted in a way that is both wearable and directional. A few personal favs also made the cut: I'm talking high-collar turtlenecks, masculine jackets, and asymmetrical seams all round. And don't you just love the floor-skimming trousers that would entirely swallow a shoe if it were not overtly pointy? Way to make me feel better about having size 7 feet – cheers Reed! You gotta admit, there is nothing more pleasing than a collection that looks at what you like, and comes up with the more compelling version..

(Ph/ Reed Krakoff Pre-fall 2013 via Style.com)
See what I mean? The idea of a blazer was well underway until it was stripped of both arms only to become a structured vest. Layering heaven. Once again, leave your shirt at home. A leather turtleneck will keep you warm and give you that haute mode edge.There was mustard, and anarrayof textured grays too, which I haveignored to keep the aesthetic pure, but are to be indulged in by all who like their days to remain pigmented – albeit sparingly.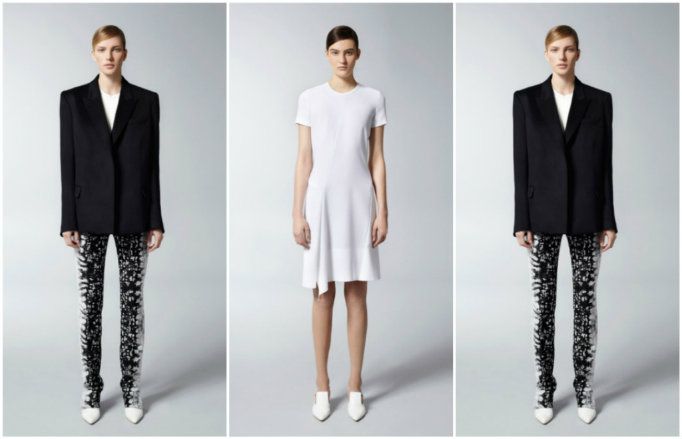 (Ph/ Reed Krakoff Pre-fall 2013 via Style.com)
A propos of the shoes, no need to fetch your pen and notebook. Achromatic pumps – yes he's at it too – finished the story off neatly. Inevitably, this has triggered my own white shoe fetish, so I stopped by Kurt Geiger over lunchto pick-up a temporary fix. Laila has such a pretty ring to it, don't you think?