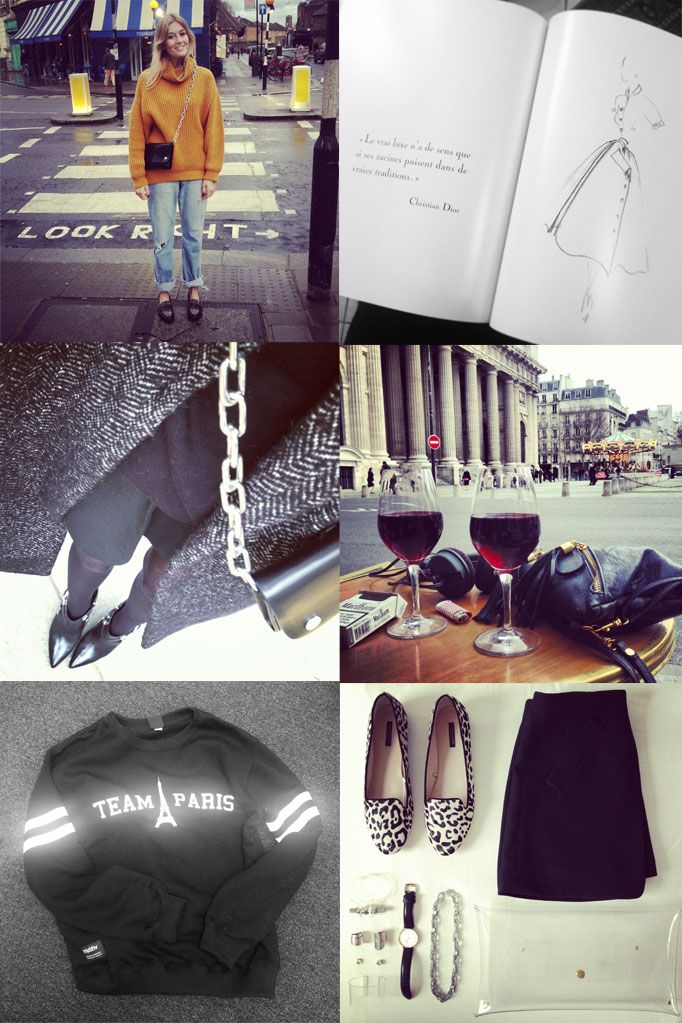 (Instagram ID: Camtyox)
1. Look right
: Hanging out in ma hood post-Xmas, wearing the cheesiest grin in town – hashtag never fully dressed without a smile
(Elin Kling x Marciano knit, H&M jeans, Zara loafers and Acne shiloh cross body bag)
.
2. Le vrai luxe:
Leafing through the most beautiful archival recount of Christian Dior's work, paramount if I'm to understand what Raf Simons plans to reference (
Dior Inspiration, Abrams
).
3. Morning vertigo:
en route to work clad in a mish mash of layers and textures (H&M tweed coat, Zara skirt, Misbhv sweatshirt, Elin Kling x Marciano booties and Acne Shiloh cross body bag).
4. Vino with a view:
sitting en terrasse despite dangerously low external temperatures, enjoying a large glass of Merlot – basically my only activity when in Paris over the holidays
(Café de la Mairie – Saint Sulpice, Paris)
.
5. Sacred slogan:
Booking early bird tickets to Paris Fashion Week and receiving the perfect sweatshirt to wear on the job = having my cake and eating it
(Misbhv sweatshirt).
6. Foregoing flatlay:
compulsive need to share look du jour meets serious case of insta-ready OCD
(Zara loafers and skirt, Cos necklace and rings, Cooee bracelets, Daniel Wellington watch and Klearklutch pouch).