A Red Affair
Thursday, February 14 2013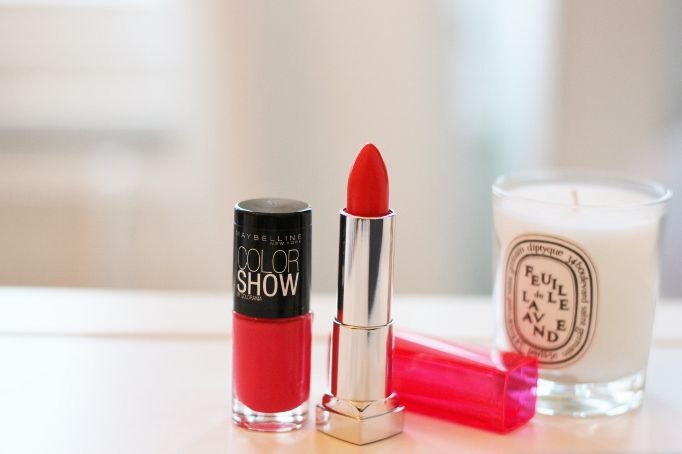 (Ph/Maybelline Color Show nail lacquer in Orange Fixand Color Whisper lipstick in Orange Attitude)
No point pretending any longer. I may as well fess up before we get caught red handed (pun intended – wait for it), and someone gets very hurt.. Fiery Red (there it is!) and I have been carrying on a torrid affair in secret for the past few weeks. At first, I thought it was just a fling, a fleeting moment of passion to spice up my monochromatic way of life. But before long the whole thing had spun out of control. Casual knitwear turned into leather leggings, which morphed into a color-block pullover, a neon scarf, a bright lip–and before you could say 'Valentine's Day', my whole cybertown had been painted red. LOVE, look what you done to me!
And then came the coat. You have not met the coat yet. The coat is what they call the one (sorry, man friend!). The coat will be my date to fashion week tomorrow. I won't spoil the surprise, but the best thing about the coat is that it's not just a column of red. It's got a lot more to say for itself than a mere pop of colour ever would. Because of the coat, there is no going back. Red, je t'aime!
Story doesn't end here, though. My lovesick nails, so used to being coated in dramatic black or crisp white, want in. And now that the whole thing is out in the open, how can I deny them that intoxicating pleasure? Red it is! So tomorrow, if you manage to hunt me down, my fingertips will be parading a pop-bright Orange Fix,courtesyofMaybelline's new Nails Colour Show. Come say hi!
Get fashion for your fingertips with NEW MAYBELLINE COLORSHOW nail lacquers. From nudes to acid brights, the colour is bold and crisp due to the formula's transparent gel-base, giving afiercefashion finish. Only £2.99 in-store now.
***Disclosure:Compensation was provided by L'Oréal via Glam Media. The opinions expressed herein are those of the author and are not indicative of the opinions or positons of Maybelline.***