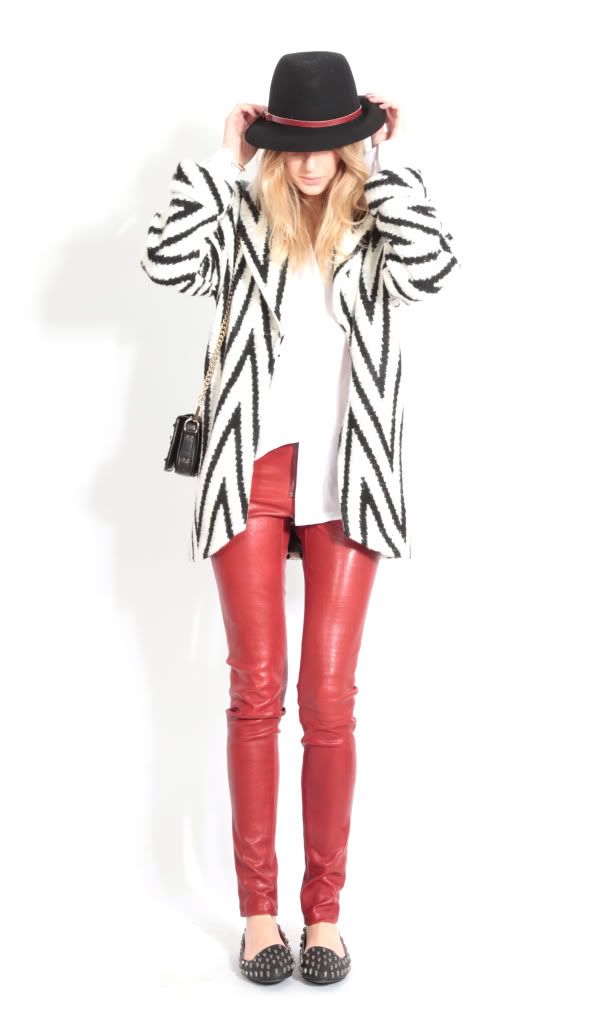 (Ph/ Oxygen)
Remember last weekend when I gave you a sneak peek of my shoot with Oxygen Boutique? No?!That's because you don't follow me on instagram! Go on then, what you waiting for.. It's fun, I promise. Anyway, Joanna (the owner of this stylish little boutique tucked away behind London's Oxford Street) and I thought it would be fun for me to style 5 outfits using only pieces from the store. So here goes : Day 1. Channeling my inner Kate Moss as it so happens. Hey, a girl can dream!
Yup, you guessed it, oncethose leggingswere on, there's no way on earth I was not taking them home. So soft. So comfy. So cool! And the jacket? Perfect to work this season's black and white graphic trend, as seen at Marc Jacobs and Michael Kors. A toned down version of Hedi Slimane'sCruella de Vilcape for Saint Laurent if you will. I grabbed the hat at the last minute – head shizzle normally looks terrible on me, so I tend to not go there – but this one tied everything together nicely, so I went with the flow. What do you think?
GET THE LOOK: I'm wearing a Lidell oversized jacket by alice + olivia, leather leggingsby alice + olivia, Skulltini slippers by Jeffrey Campbell, a jordan hat by Eugenia Kimand a mini box bag by Rebecca Minkoff.