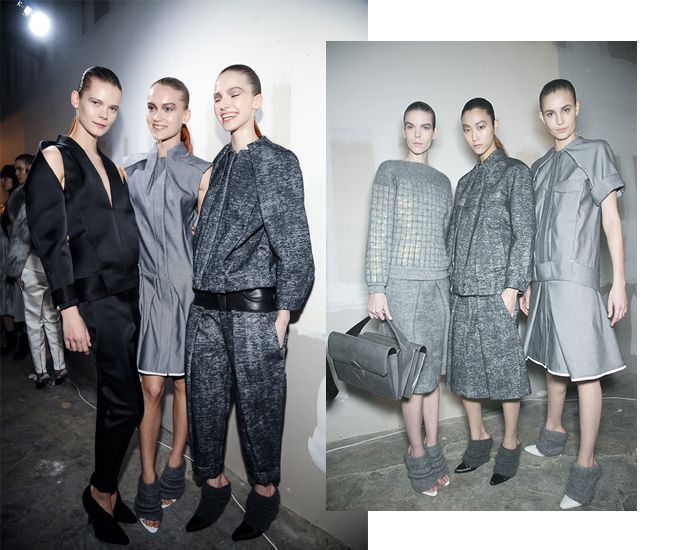 (Ph/Vogue.fr and Madame Figaro)
Saturday 9th February 2013. Five o' clock has come and gone. Suddenly, the lights go down at the Cunard Building, and as the Nemo-babble dies down, the dramatic beats of Rocky III's Eye of the Tiger fill the majestic room. Anticipation kicks in, as this will be
Alexander Wang
's first show since being appointed creative director at
Balenciaga
– and though we still have to wait a couple of weeks to find out where thatmarriageof commercial-cool and couture-volume is headed, surely this will giveskepticalsand believers a foretaste ofthingscome..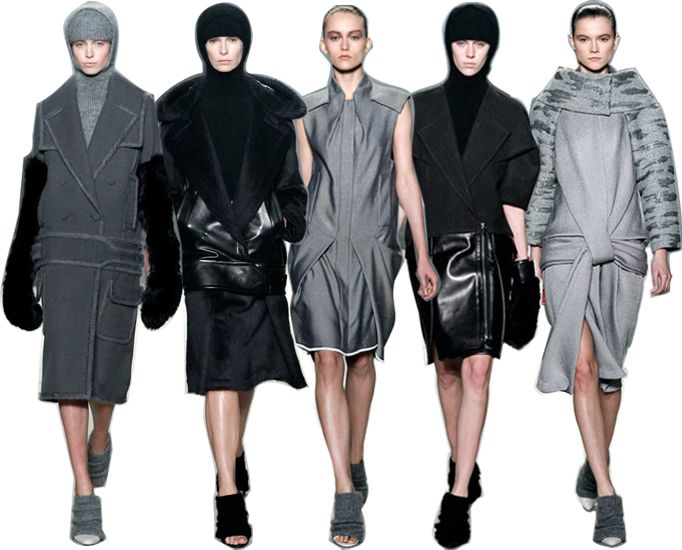 (Ph/Alexander Wang AW13 viaStyle.com)
And as the first girl stomped out into the light, the soundtrack immediately came into its own. Giant furry boxing mittens, woolen cagoules reminiscent of protective headgear, belted, round-shouldered coats recalling the robes worn by those enteringthe ring, slick-back hair as if wet fromsweat : the references to the noble art of boxing were extensive and impossible to miss. Then, there were the fashion statements that had little to do with the sport of choice, but nonetheless tied in nicely with the overall 50 shades of grayscale (with a side order of rich rusty leather) aesthetic. Sock mules, for one. Blurry camo for another. The cuts of the textured mohair outerwear were simply terrific. And the soft fabrics, including alpaga and astrakan, worked really well as a whole to soften the heaviness of the rigid silhouettes, and thebluntnessof the leather. One thing certain, the Wang girl will not throw in thetowelwhen next year's snow storm comesknocking.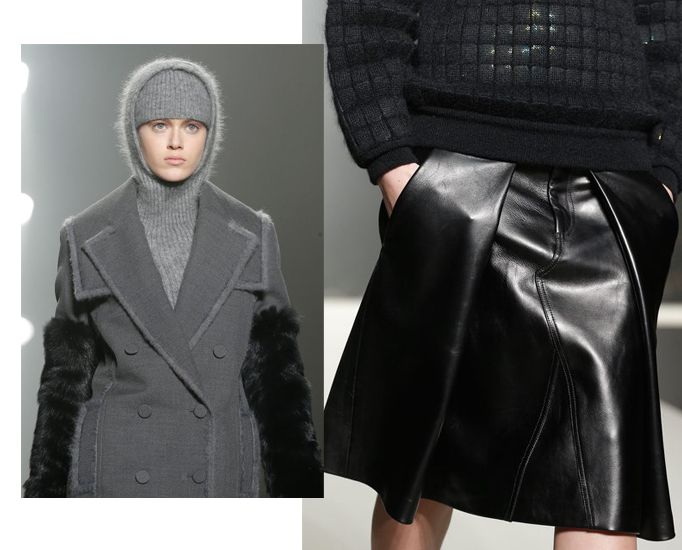 (Ph/Alexander Wang AW13 viaStyle.com)
Some of us may complain at having seen a few too many Balenciaga outtakes (See:
Ghesquière'spre-fallboxing gloves from way back when
). But credit should be given where it's due, and the collectionmakes an eloquent case for the newly appointed New-Yorker'scouture abilities. Perhaps there is more to that song than meets the eye. "Risin' up, back on the street / Just a man and his will to survive". Wang, it seems, won't go down without a fight.